Republican Primary May Get More Interesting: Meet Candidate Walmart
Reposted from thefightback.org. Go here to listen to audio from this story.
As Republican presidential hopefuls vie for their party's nomination, one last-minute entry has gone largely overlooked despite his impressive right-wing credentials.
"I'm more Republican than any of the candidates," said Candidate Walmart, the first corporate person to run for president. In the wake of the Supreme Court's Citizens United ruling, which determined that corporations are people and entitled to constitutional rights, "we decided that it only made sense that we should actually have a corporation run for president," he said.
Candidate Walmart characterized his opponents as being too moderate. "Any of their promises, I can outdo them," he told TheFightBack while dressed sharply in a jacket emblazoned with dollar signs. "Newt Gingrich wants to get rid of child labor laws. I say get rid of all labor laws."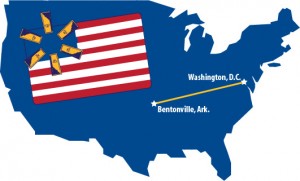 Recently, Mitt Romney came under fire for saying he wasn't focused on the plight of poor people. For Candidate Walmart that was good, just not good enough. "The thing that I have over Mitt Romney is that not only do I really not care, I actually create poor people every day with my low wages and shoddy benefits."
While the world's largest retailer has been accused of using sweatshop labor for some of its products, Candidate Walmart feels they can do better. "I'm going to find out where we're not using sweatshop labor and change that up because I want the most efficient, effective product distribution line that there can be, and you really only get that with child labor, slave labor, that kind of stuff."
The first corporate person to run for president reminded shoppers, "Vote Walmart, vote early, vote often. And always remember low prices are awesome."